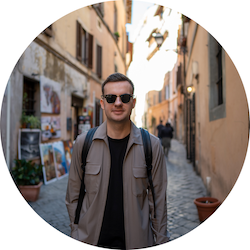 ---
Welcome to Hairstylez.com! My name is Revan Walsh, and I'm thrilled to have you here.
I started my career as a hairstylist with the internationally acclaimed salon, Toni & Guy. After several rewarding years , I decided it was time to spread my wings. For the last three years, I've been living my dream as a travelling hairstylist, immersing myself in diverse cultures, styles, and techniques.
In early 2023, I launched Hairstylez.com, a project born out of my passion for hair styling and my keen eye for trends. I wanted to create a platform where I could share my expertise and inspire people from all corners of the world.
Here at Hairstylez.com, I believe everyone has the potential to look and feel their best. That's why I'm committed to sharing the latest styles, trends, and valuable tips for maintaining healthy, beautiful hair.
In addition to all the trending hairstyles, I also bring you exclusive features on some of the most interesting and innovative salons I've visited during my travels. This unique insight into the world of professional hairstyling will take you on a journey far beyond your local salon.
My mission is to inspire, educate, and empower you. Armed with knowledge and confidence, I want you to feel ready to express your unique style. So, welcome to Hairstylez.com, and I can't wait to embark on this hair journey together!